Merlot is a successful grape coming from Bordeaux, which has been planted all over the world. There are highly sought-after wines made with Merlot, but at the same time Merlot is sometimes criticized for its simplicity.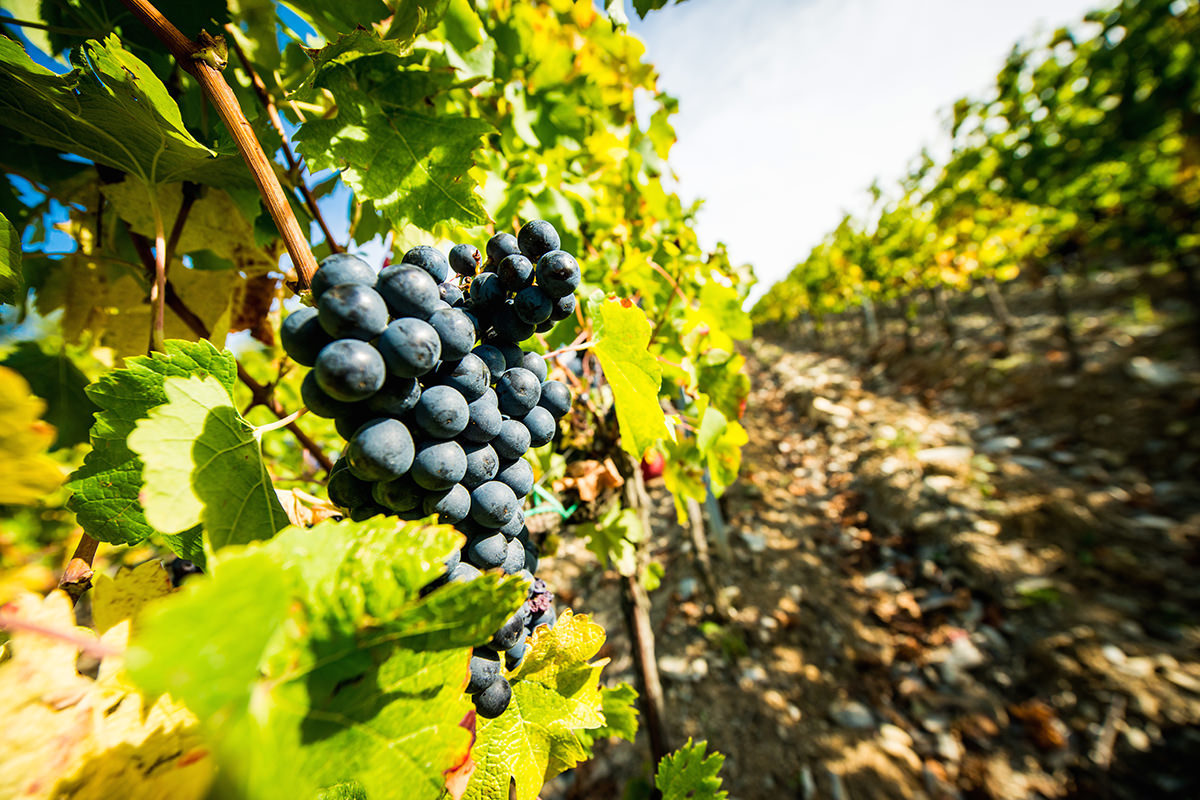 Who hasn't laughed while watching the cult movie "Sideways" when Miles yells: 
"If anyone orders Merlot, I'm leaving. I refuse to drink Merlot!"
As a wine, Merlot has deep color and juicy, smooth taste; it has intense, predominantly fruity aromas. 
It is also a sensual wine, easy to drink young, but the best ones also lend themselves to a long aging in bottle.
Merlot is Italy's 5th most planted grape. Tuscany has proven to produce exceptional Merlots. Here it is very popular after the autochthonous Sangiovese and the other very common Cabernet Sauvignon (we'll talk about this grape in a next post).
Let's try to better understand the characteristics of the Merlot grape
Merlot is a thin-skinned grape that is very sensitive to its environment. Merlot grapes they ripen up to 2 weeks earlier than Cabernet Sauvignon and, on a rainy harvest, one week can make a big difference!
The wine is classy with a bright ruby red hue and layers and layers of aromas: raspberry, black cherry, orange peel, chocolate, cigar, nutmeg. It is stunning on the palate, with an elegant silky texture and a savory, lingering finish. It is also a long-lived wine that can be aged for years.
Once aged, it developed dark garnet red, floral and red fruit nose with hints of sweet spice. Fresh and tannic mouthfeel. Fine and full-bodied.
---
1) VISUAL EXAMINATION

Medium-plus to full body
Deep ruby color
---
2) OLFACTORY EXAMINATION

FRUIT: Black Cherry, Blueberry, Raspberry, Plum
OTHER: Cedar, Tobacco, Vanilla,Chocolate, herbaceous, spicy
---
3) GUSTATORY EXAMINATION
Merlot is loved for its boisterous black cherry flavors, supple tannins, and chocolatey finish. Dry, but with big fruit flavors.
Remember, fruit doesn't have to equal sweet. Purple floral notes towards the top of the glass.
Pyrazines, or green notes, come across as leafy rather than peppery.
Rich baking spices from oak aging:  Vanilla, allspice, and cinnamon.
---
Taste profile of Merlot
Deep ruby color
Bone-dry
Medium-full Body
Medium-high Tannins
Medium Acidity
13.5–15% ABV
Which are main flavors and aromas of Merlot wines?
Red fruits, easy tannins and a soft finish are the characteristics of Merlot wine. But there's more to Merlot than being smooth. It's actually a bit of a chameleon, partly because of how Merlot is vinified and mostly because of where it's grown.
Merlot wine tends to be fruitier with refined, pin-cushion tannins. Because of the boldness of these wines, you'll often find the aging in oak will add vanilla, chocolate, and smoky cedar notes.
Merlot Food Pairing
Merlot wine matches with a wide variety of foods because of its position in the middle of the red wine spectrum. In general Merlot pairs well with chicken and other light meats as well as lightly-spiced dark meats. With medium tannin and not too much acidity you'll find Merlot pairs well with many foods.
Pick a Merlot if you want…
fruit-driven plum and cherry flavors
less tannin
smoother finish
elegant and soft
food pairing partner
For all your wine needs, shop our wines.