Local Area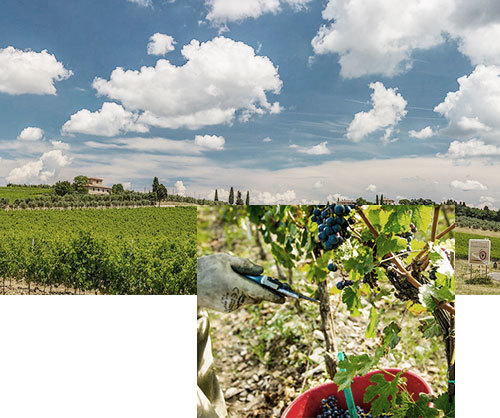 Chianti region
Some places are blessed with good fortune. In the case of Fattoria Montecchio, we must have been blessed by Bacchus, god of wine.
Italy has always been a land of wine. It was here, in the south, that the ancient region of Enotria was located. More recently, however, Chianti Classico has without doubt become the wine region with the most intriguing, deep-rooted traditions.
Chianti history
Here, between Siena and Florence, wine has been successfully produced for centuries, to the extent that wine was an important business interest for the noble Florentine families, thanks to solid commercial relationships with neighboring countries, where Chianti wine was popular (and nothing has changed!).
In order to give greater protection to wines produced according to higher quality standards, on 24 September 1716 Grand Duke of Tuscany Cosimo III de' Medici decided to identify – for the first time ever – areas that had a particular vocation for the production of fine wine.
The Sopra la Dichiarazione de' Confini delle quattro regioni Chianti, Pomino, Carmignano e Val d'Arno di Sopra (declaration of the borders of the Chianti, Pomino, Carmignano and Val d'Arno di Sopra regions) ringfenced a rather large area between the cities of Florence and Siena, where a wine of the same name was produced. That area now coincides exactly with the modern-day Chianti Classico region.
As we've said, the region was already a success in the field of winemaking – and it was this success that prompted the smart Grand Duke to come up with a way of protecting and safeguarding it.
San Donato in Poggio
It is within this region, which spans 70,000 hectares across the municipalities of Castellina in Chianti, Gaiole in Chianti, Greve in Chianti, Radda in Chianti and parts of Castelnuovo Berardenga, Poggibonsi, San Casciano in Val di Pesa and Barberino Tavarnelle, that we find the village of San Donato in Poggio: the "home" of Fattoria Montecchio and its vines.
Fattoria Montecchio Chianti vineyards
Our bond with the village is so precious that the vineyard around it, used entirely for the cultivation of Sangiovese grapes, which are used in Chianti Classico and Chianti Classico Riserva, is named after it: Vigna San Donato.
The agronomic side of things are just as important, however, supporting the favorable soil and climate conditions in the Chianti Classico area. Indeed, everything – climate, terrain and altitude – comes together to make the 7,200 hectares of Chianti Classico vines truly unique.