The Wine Cellar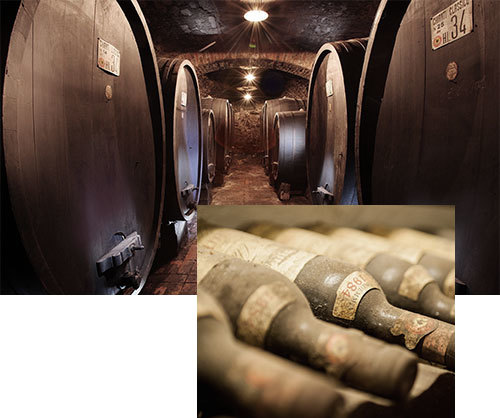 While it's true that great wine requires the best grapes, the time a wine spends in the cellar is no less important – especially when it comes to Chianti Classico and thus to Sangiovese, for whom the process of ageing in wood barrels is crucial. At Fattoria Montecchio, this process is identical to how it was 400 years ago: Chianti-style refermentation, strictly in oak barrels.
In this sense, wine cellars transcend space and time.
The Cantina Nuova – the new cellar – is the place where the first steps of wine production take place, starting with vinification in stainless steel tanks. The Cantina Nuova was built in the 1980s, in the valley that has been home to Podere di Montecchiuzzo vines since 1998.
The wine is then taken underground, to La Comola, under the large kitchens of the main house, which is home to our 25 hectoliter oak barrels and barriques, where the Chianti Classico and Riserva wines age.
The rest of the wines produced by Fattoria Montecchio age in the Barricaia, a cellar with a vaulted ceiling made entirely from brick and decorated with a fresco by contemporary artist Marco Perini.
But it doesn't end there. Another space, very similar to the Barricaia, is home to the Anforaia, where we store our terracotta amphoras. These are back in fashion after decades of decline in the field of wine ageing. The Anforaia also houses our large 33hectoliter oak barrels and more barriques.
Once bottled, the wine returns to the Cantina Nuova for storage, before they leave the site and head off to conquer the markets.
But while the "journey" of the wines through the cellars of Fattoria Montecchio may finish here, their journey through history continues. The Cantina del Marchese Torrigiani still stands under the main house to this day: once upon a time, this cellar stored the Florentine family's best bottles, while it is now home to old chestnut barrels which were built in the cellar a century ago. Now replaced by oak, these chestnut barrels are silent testament to the long wine traditions of the estate, which have been taken on and re-energized by the Nuti family without losing contact with the past.
The echoes of the past can still be felt in the Taverna, where the winemakers used to taste the bases, decide the "cuts" and bottle the wine. Now, the Taverna is a space dedicated to memory, with much of the equipment used in the old days on display..
Finally, the most iconic place for any wine lover is the Museo del Vino: this historic archive holds hundreds of bottles from every year of Fattoria Montecchio production, from the 1960s to the present day.